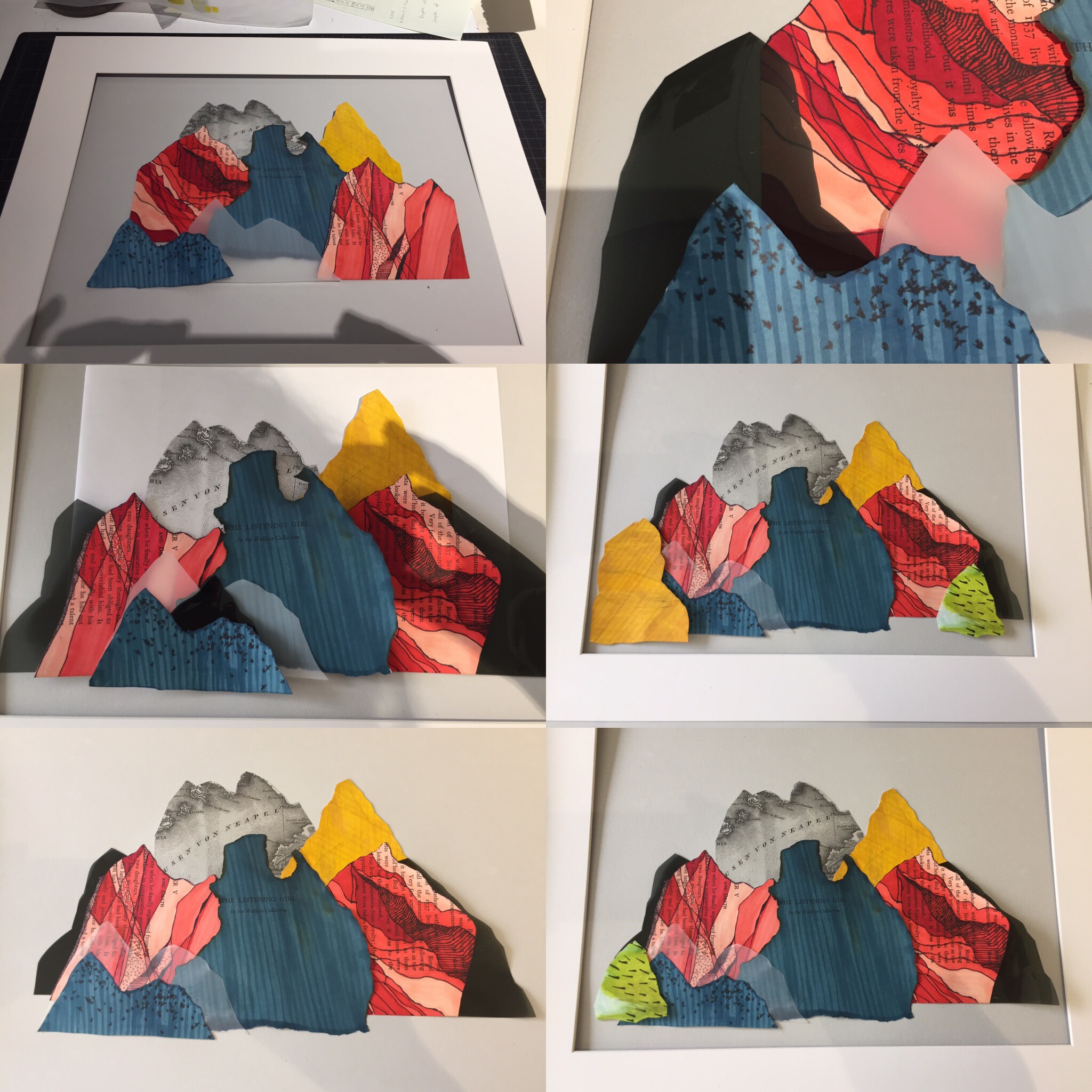 Mountain collage commission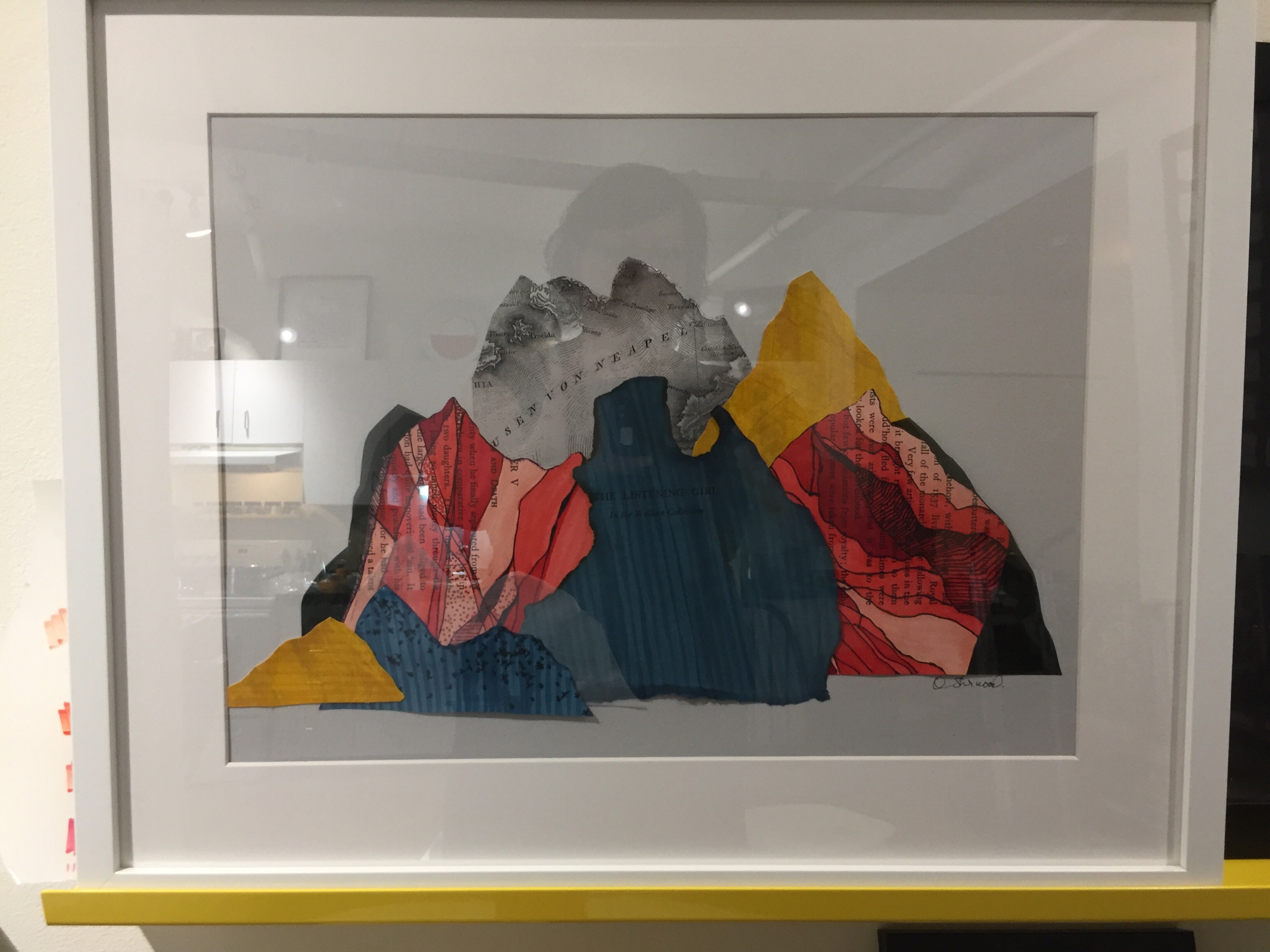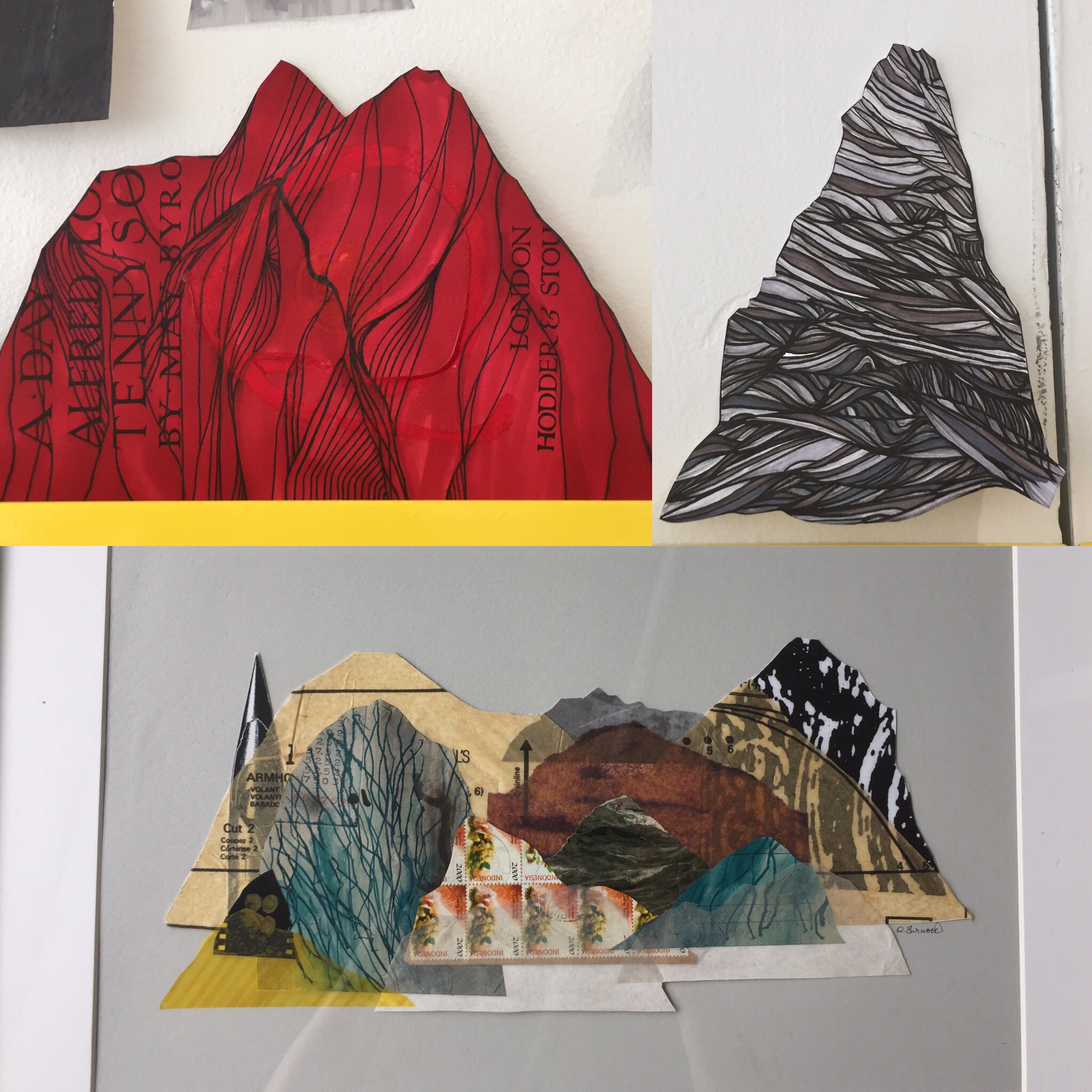 Finished and framed, added yellow mountain on left, coloured drawings made previously.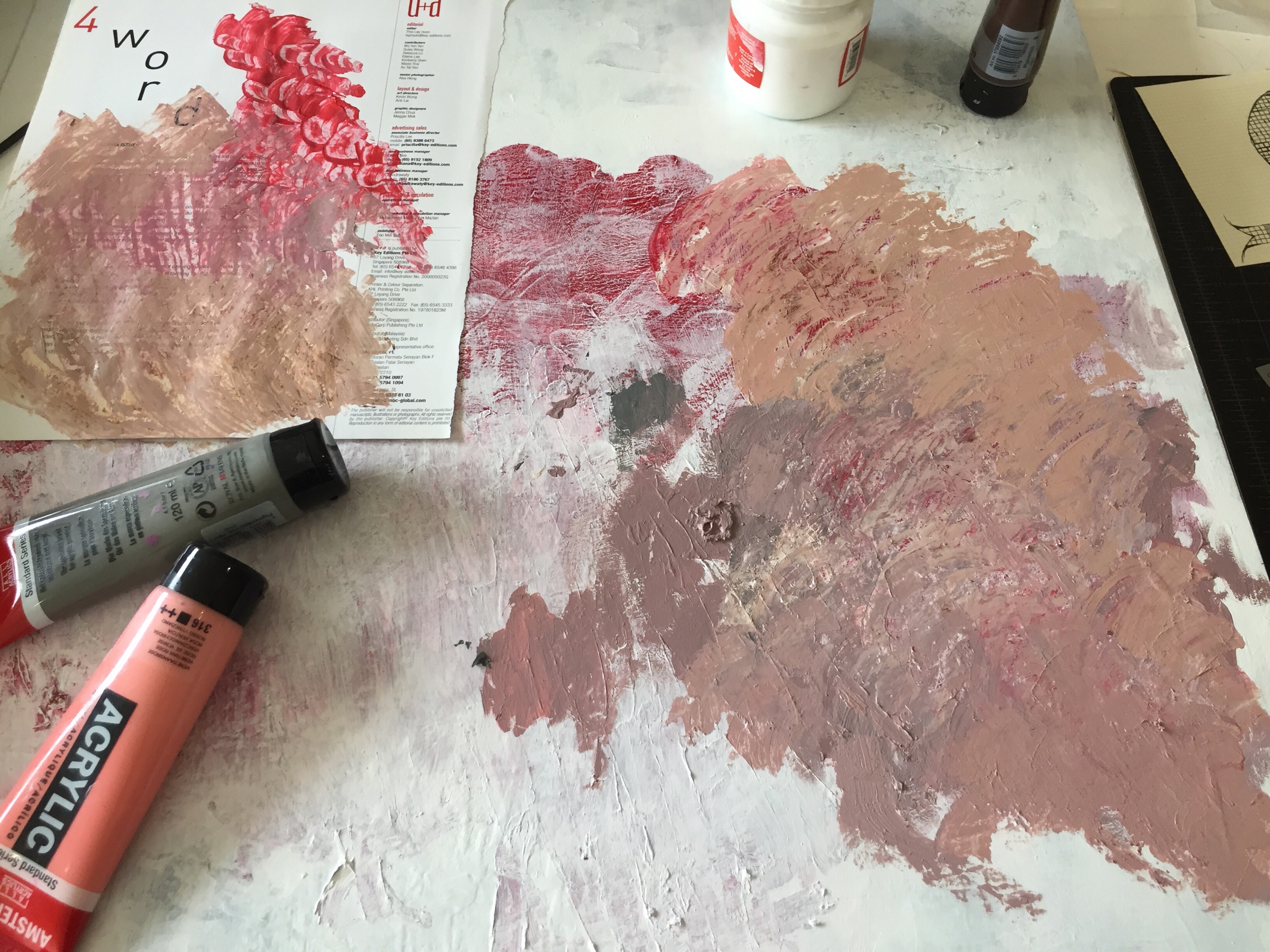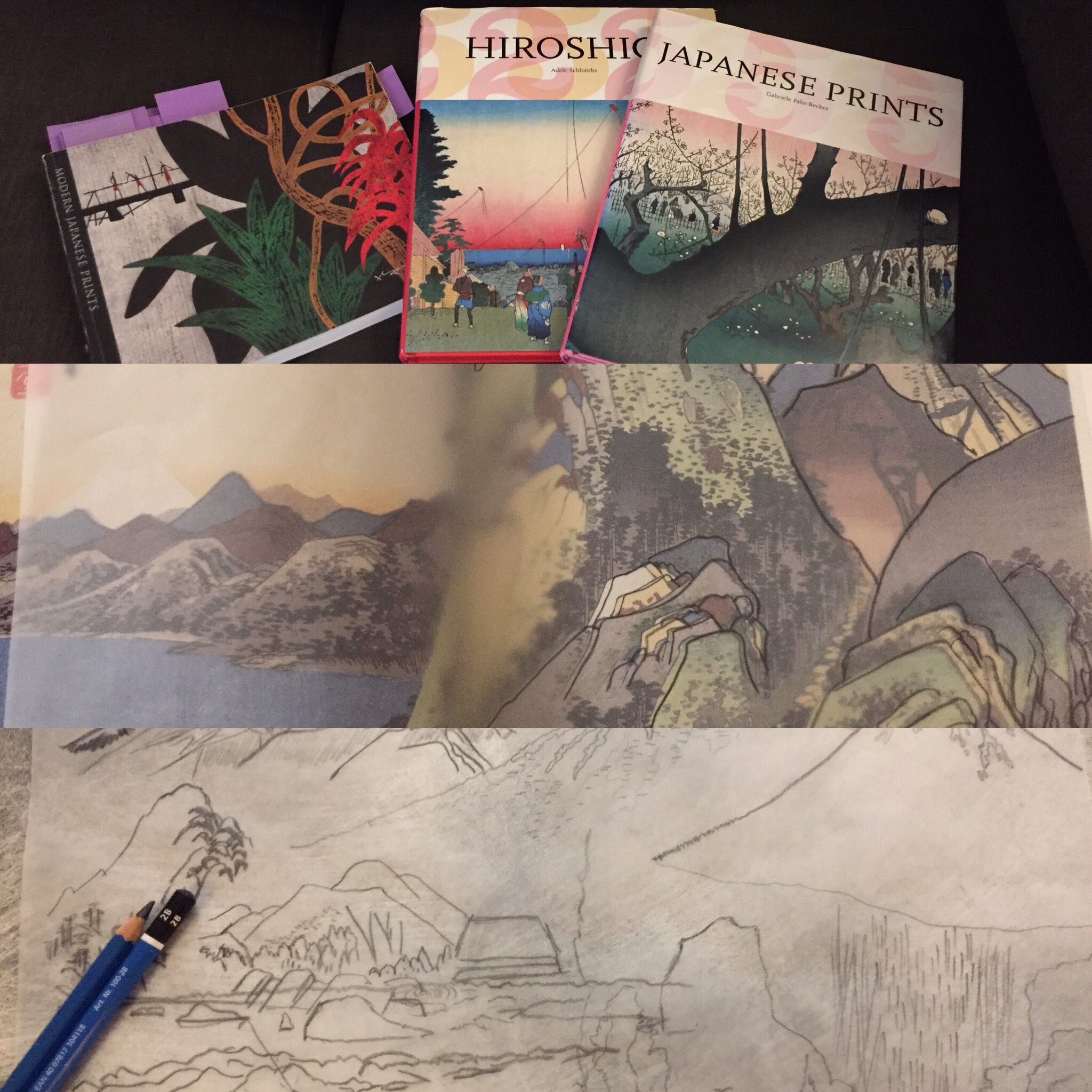 Research for mountain collages with Japanese inspiration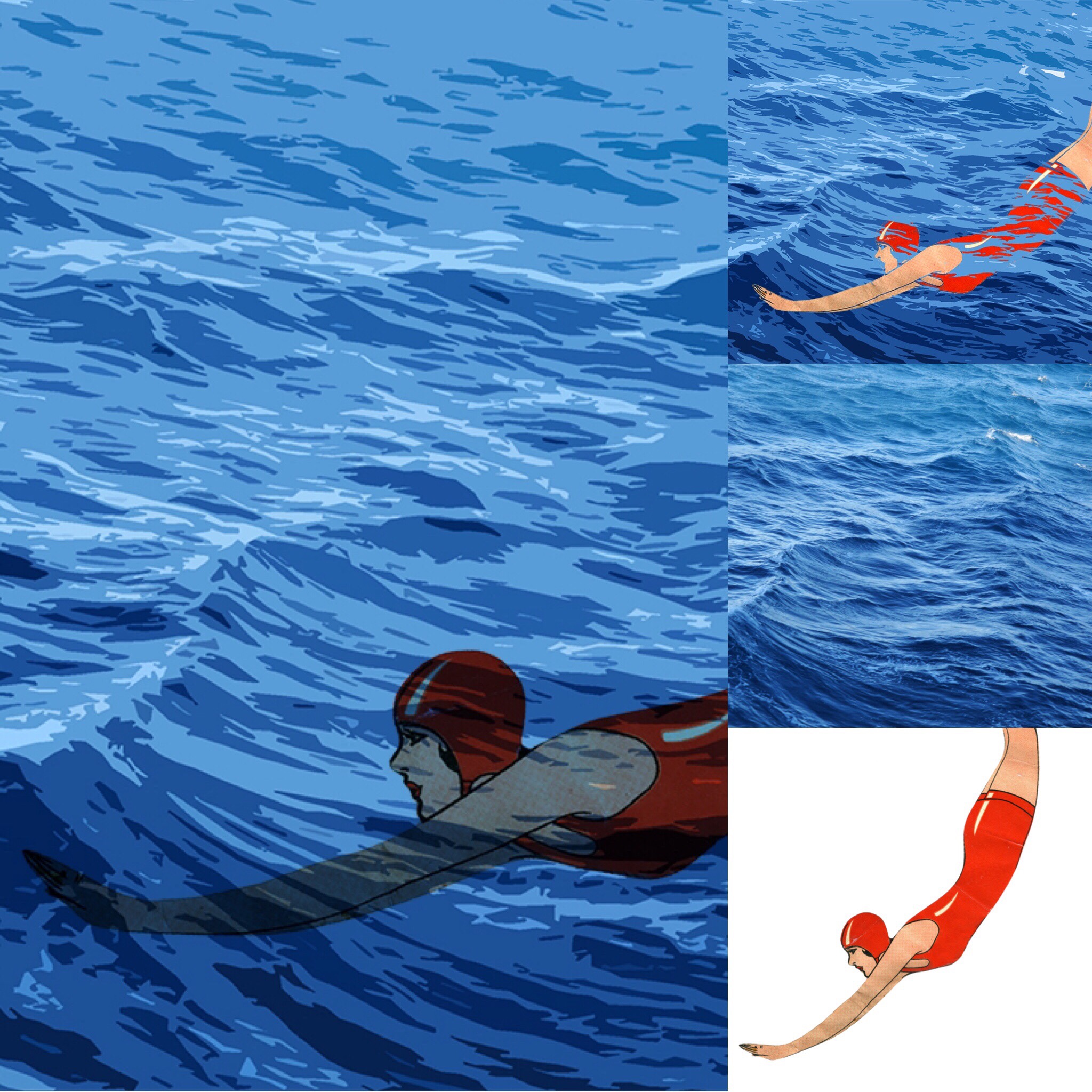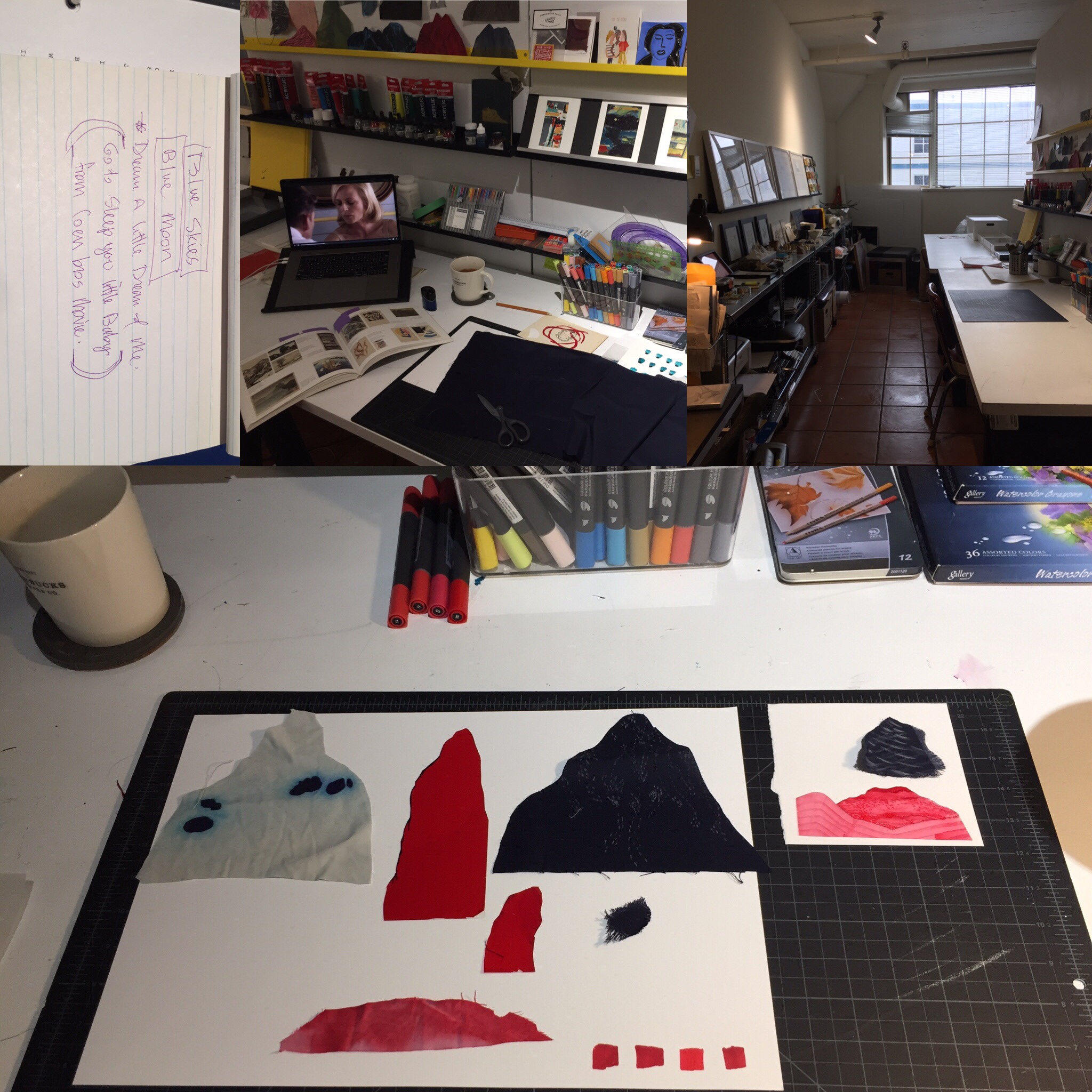 Finally got Design section cleaned, organized and tables cleared! Sang some songs with Janet. Worked on mountain pieces.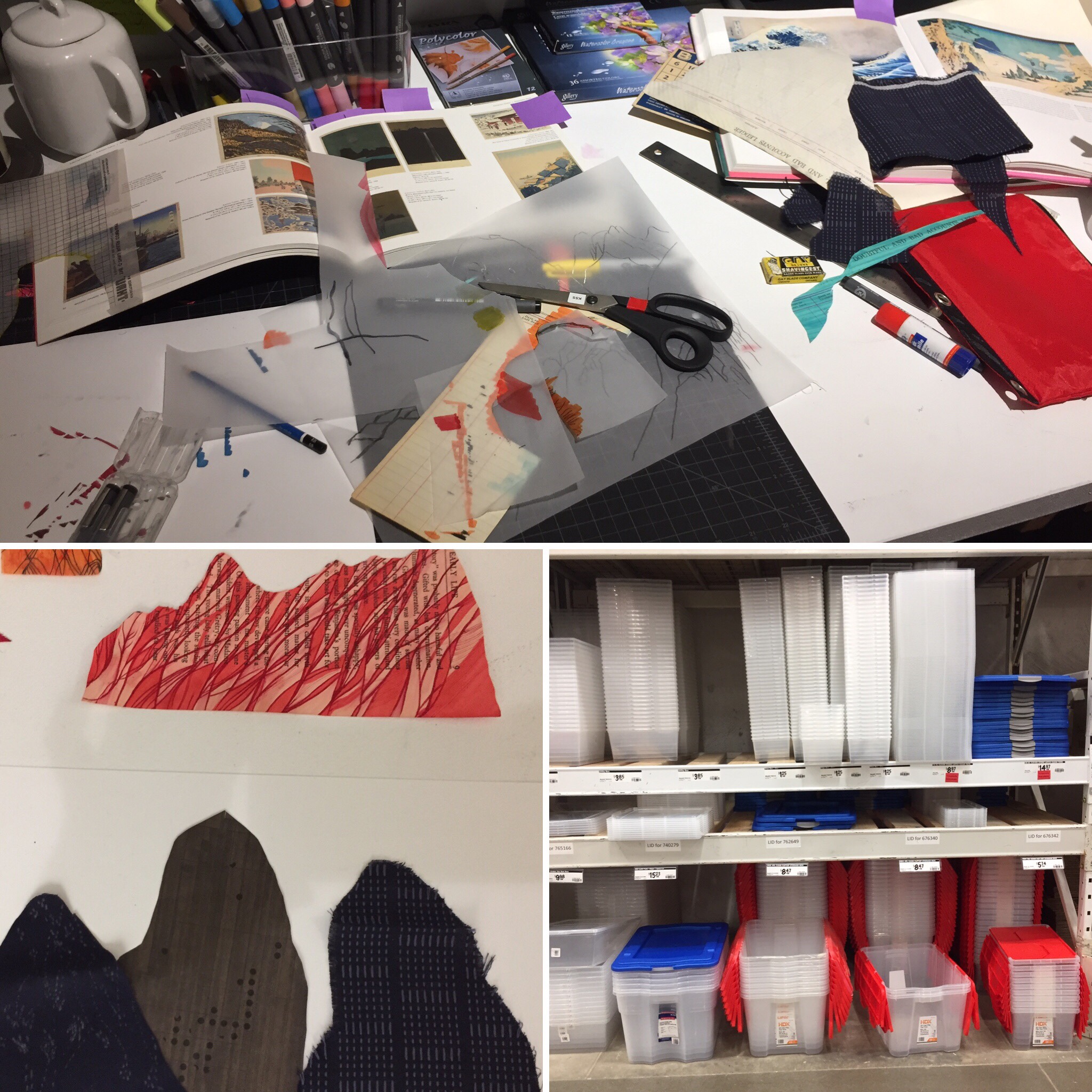 Collage pieces, purchased clear bins to organize shop. Hike with Celina in NV inspiring.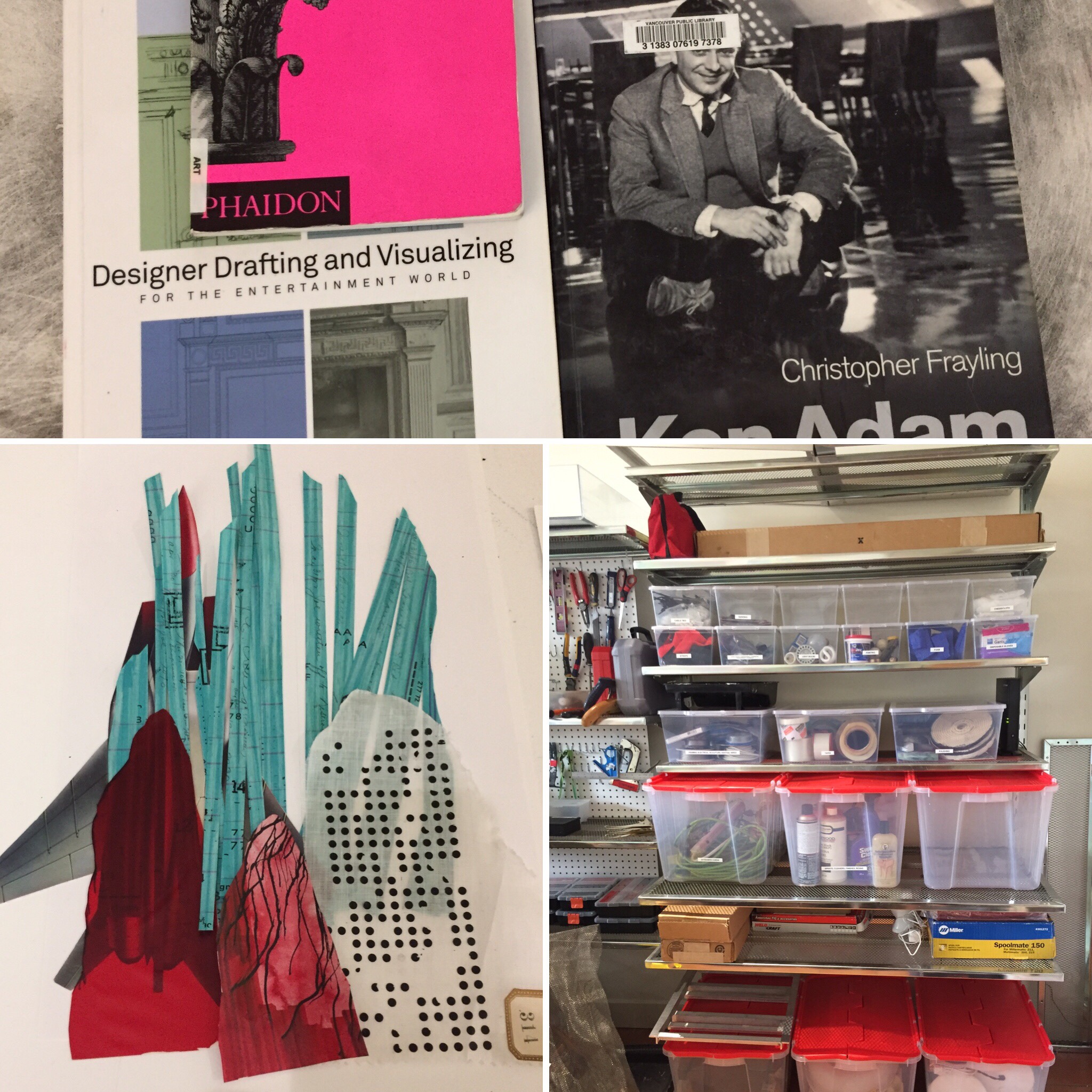 Rode to library to pick up two books. Have been reading the Ken Adam book and his early life reads like a remarkable European film. Hurrah, got one shelf in workshop done! Happy with how this collage piece is going. Doesn't show how it's going to look.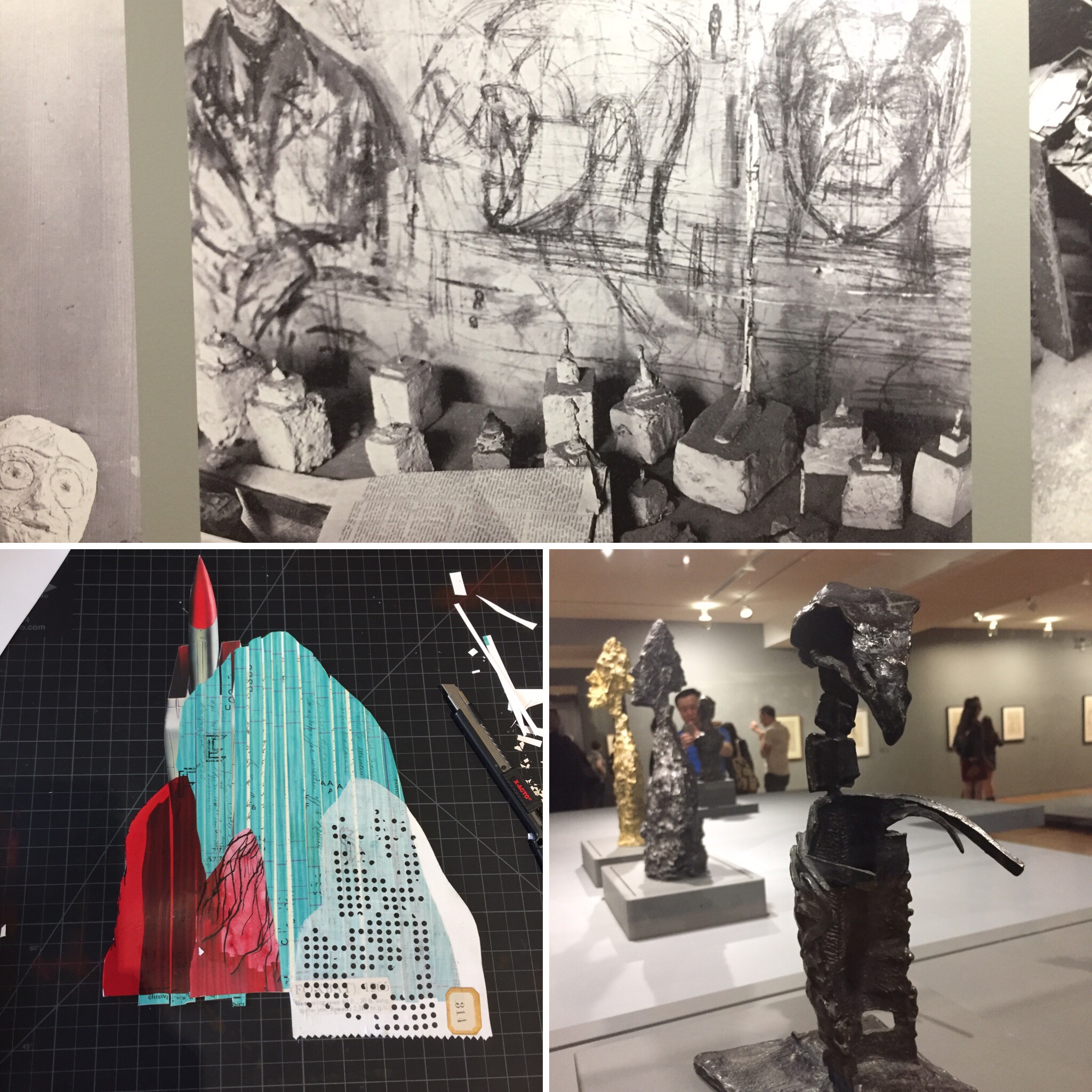 Worked on/finished the thrust of this collage. Went to members opening of Alberto Giacometti, the images of the studio though!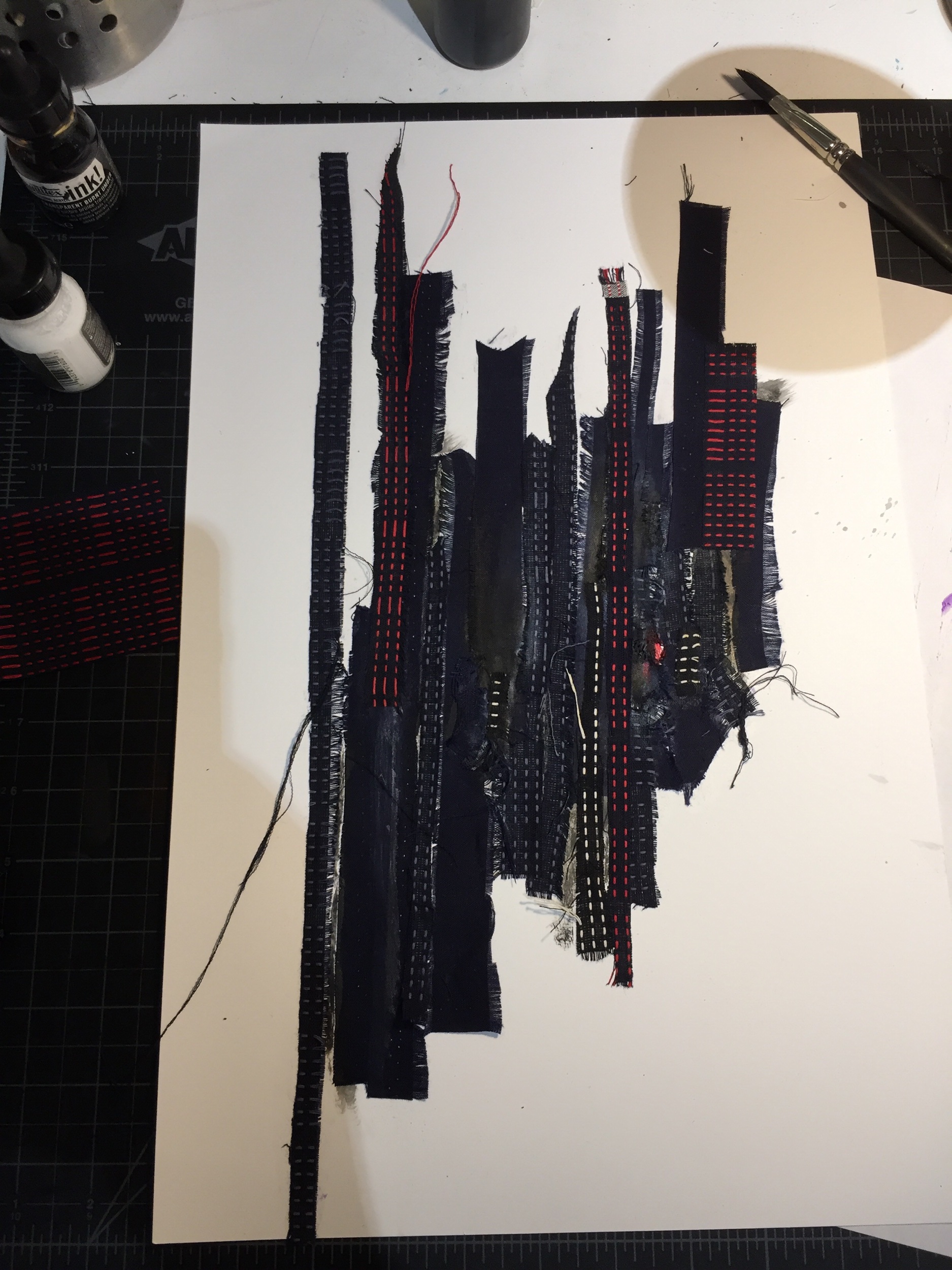 Japanese fabrics piece in process. More research into DIY welding fumes extractor using inline fan and ducting.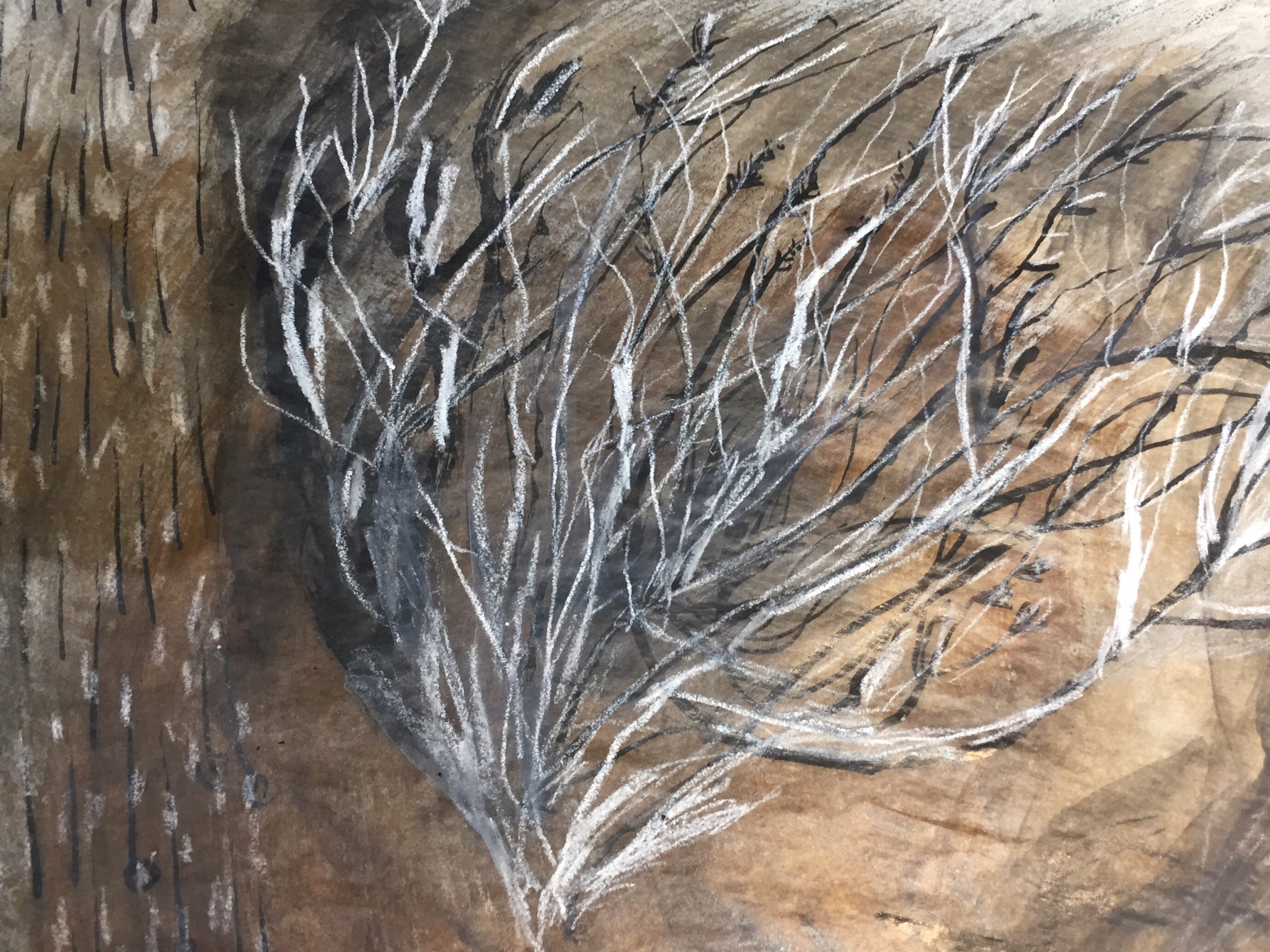 Moody washy sketch. Rode to NV to do some photoshop work with CD. Purchased an in-line duct fan from Craigslist.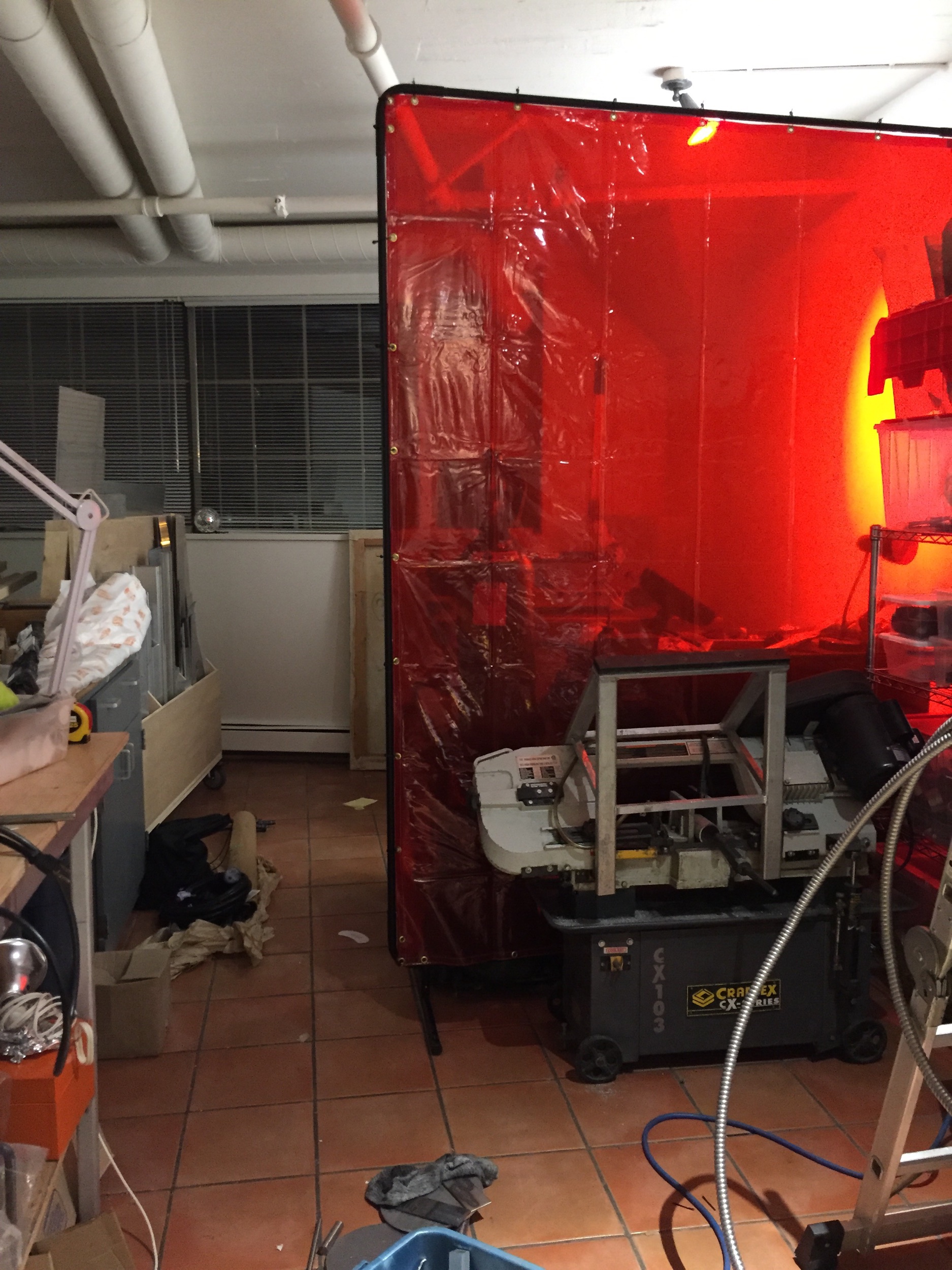 Making good progress in the workshop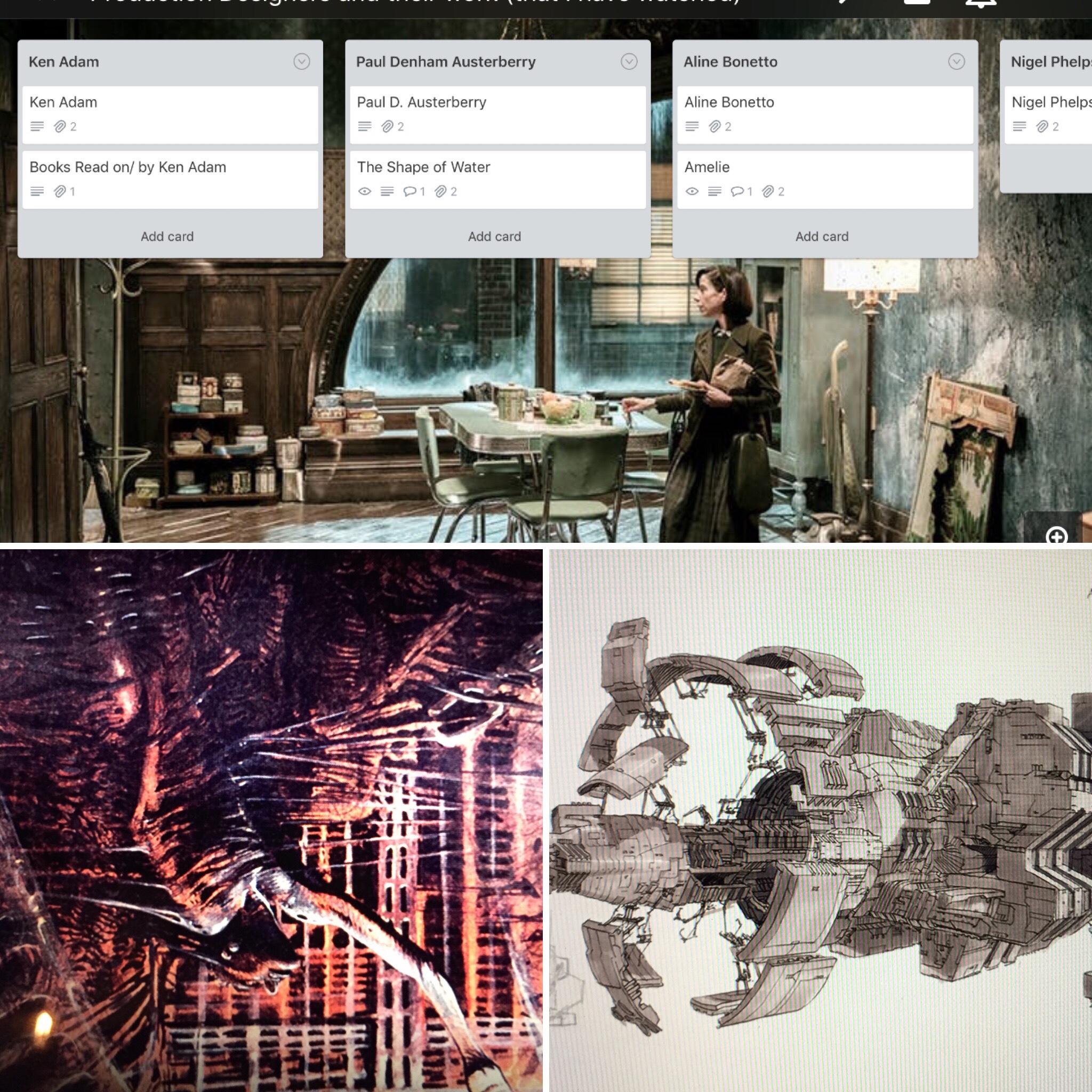 Production design research on Trello and watched Alien Resurrection and extras. More work on workshop, transferring docs to iCloud from desktop.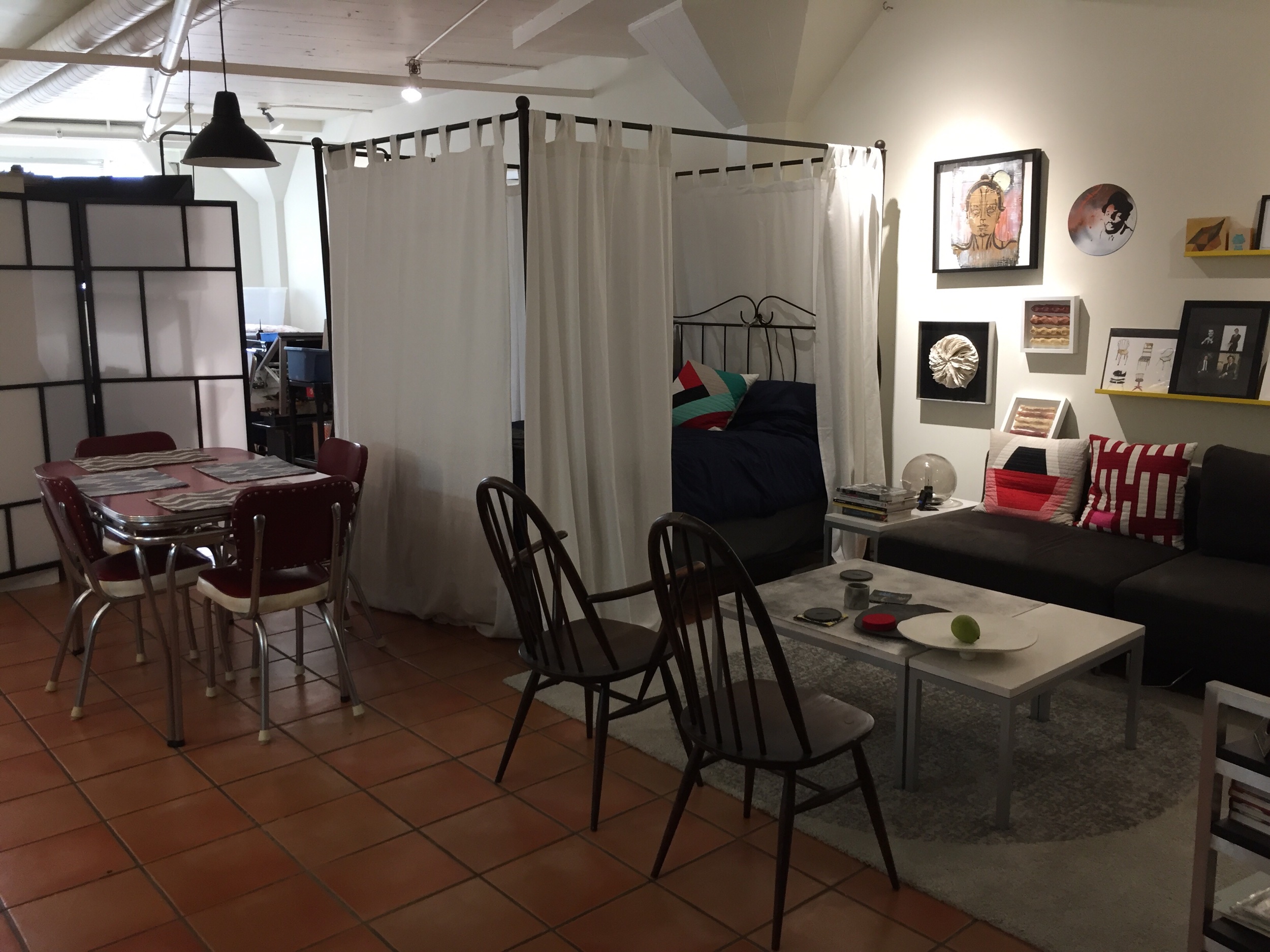 Made a creative dinner for some friends and people on my floor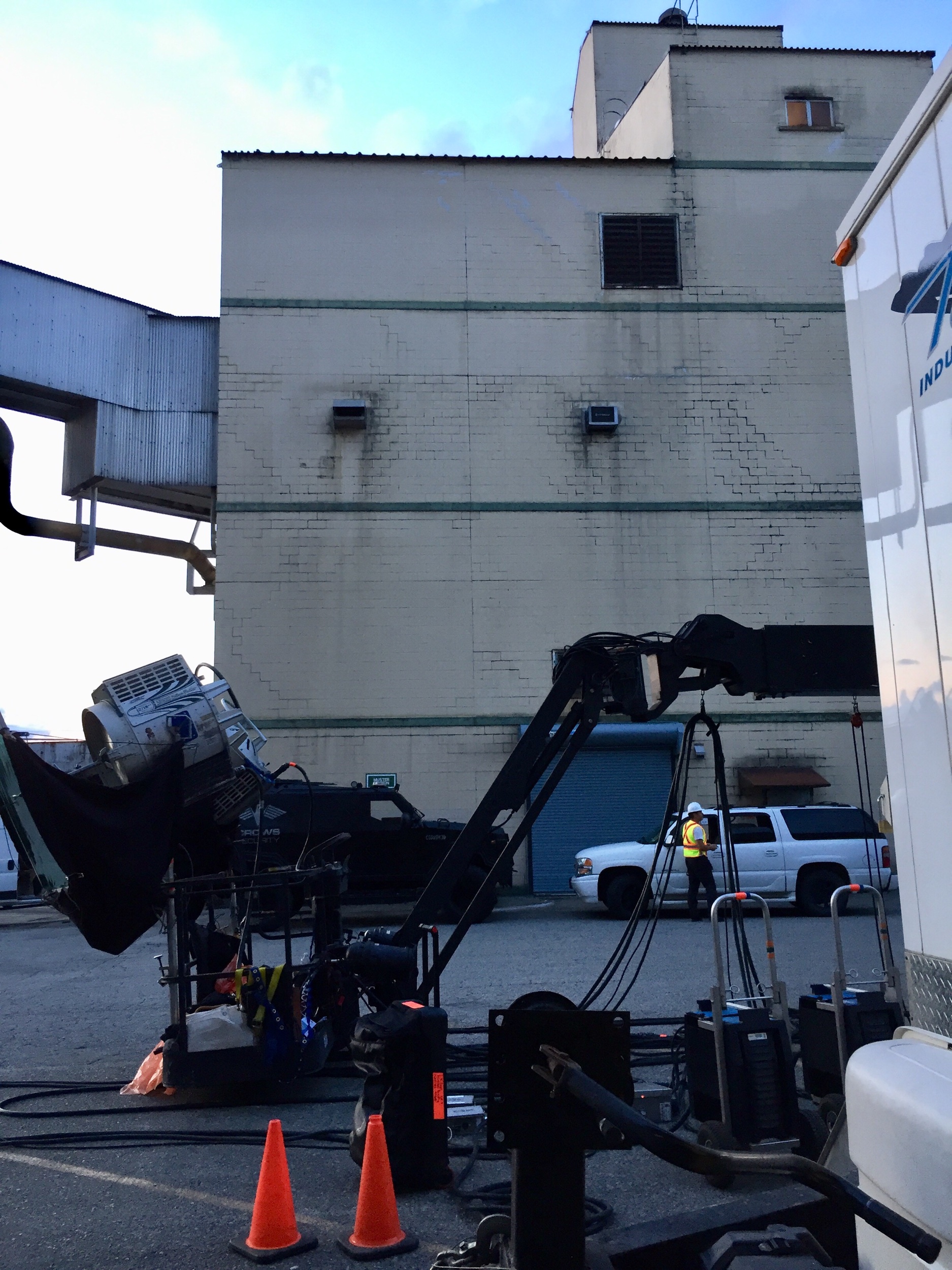 Love working in industrial areas, the architecture is fascinating. It's as if children from kindergarten got to design their dreamworlds, large geometric shapes all attached by weird bridges here and there. I got my first call yesterday in three months from Iatse. I'm working with a great crew and the location is Rogers sugar factory and the show Batwoman.. I did my first try out in a 120 foot lift. We rigged it with two 18 K's. The view was pretty amazing even though I only stayed up there for a few seconds, we were testing out the length of the cables to the lights.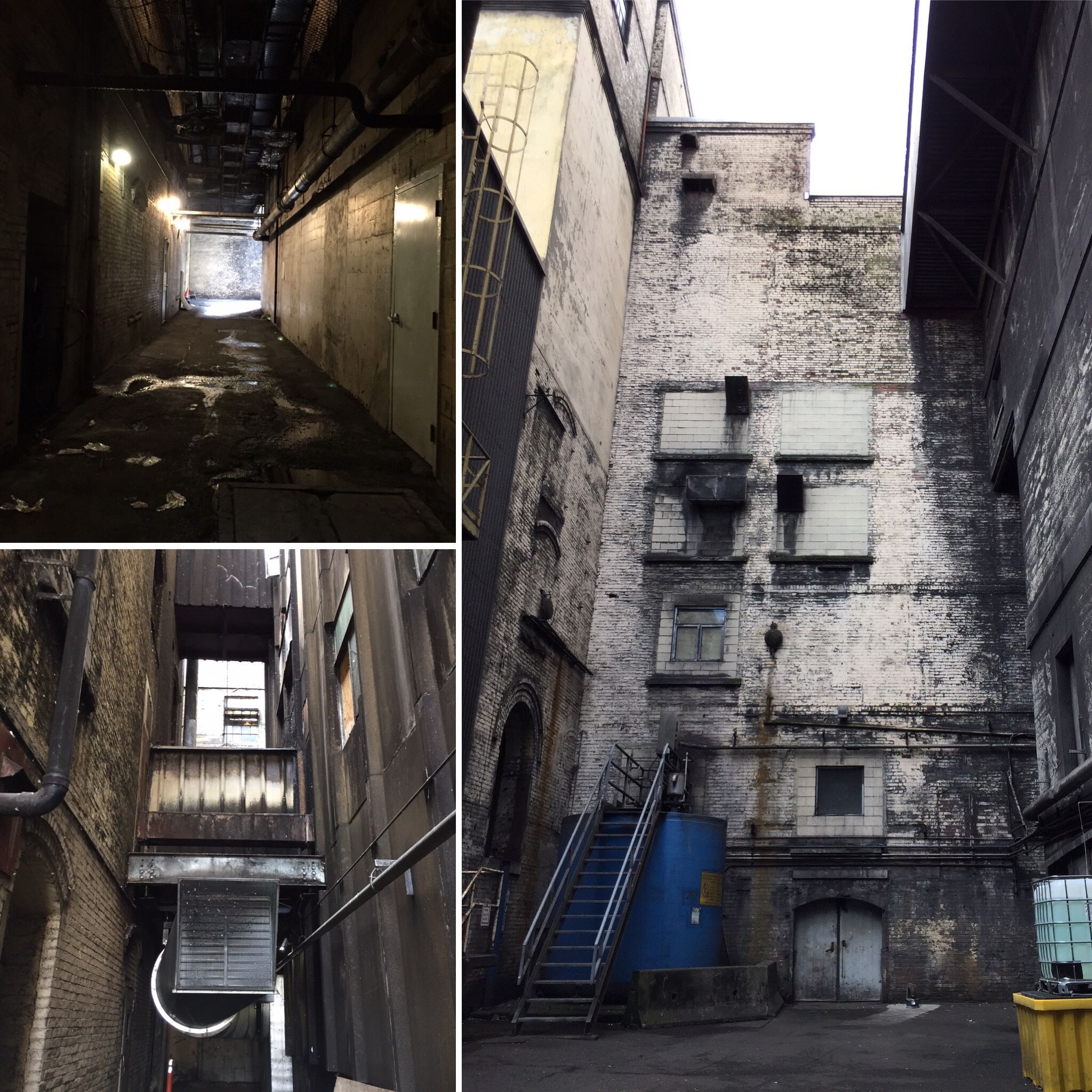 More industrial geometry at Rogers sugars. Our D rig today was sweet and quick. The smell in some of the areas is unbelievably gross!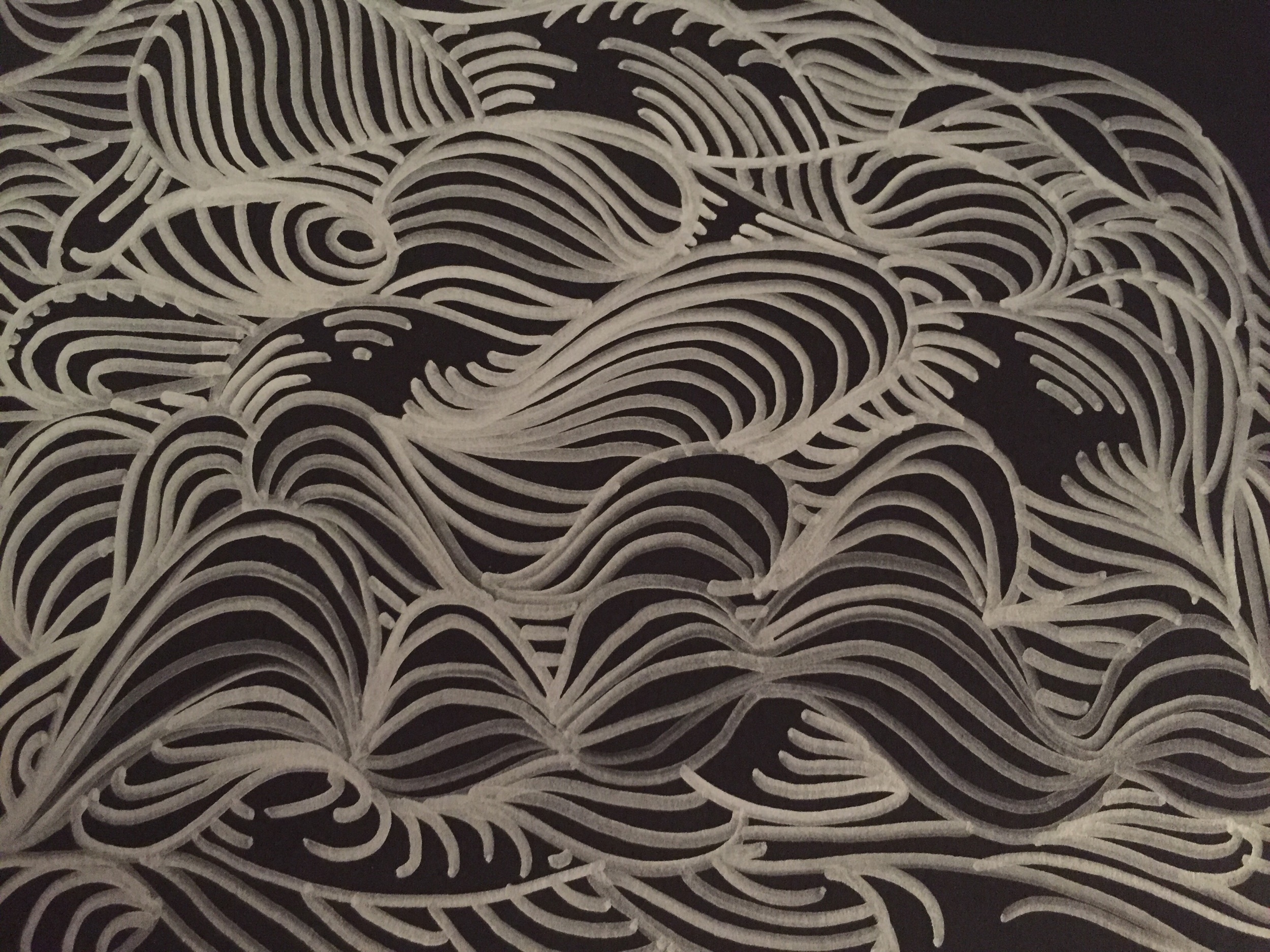 Drawing with a beautiful silver sharpie! Signed up for WCB and quick books. Had a phone meeting with Celina to do some freelance.image editing. Continuing production design research of Ken Adam, watching Around the World in 80 Days.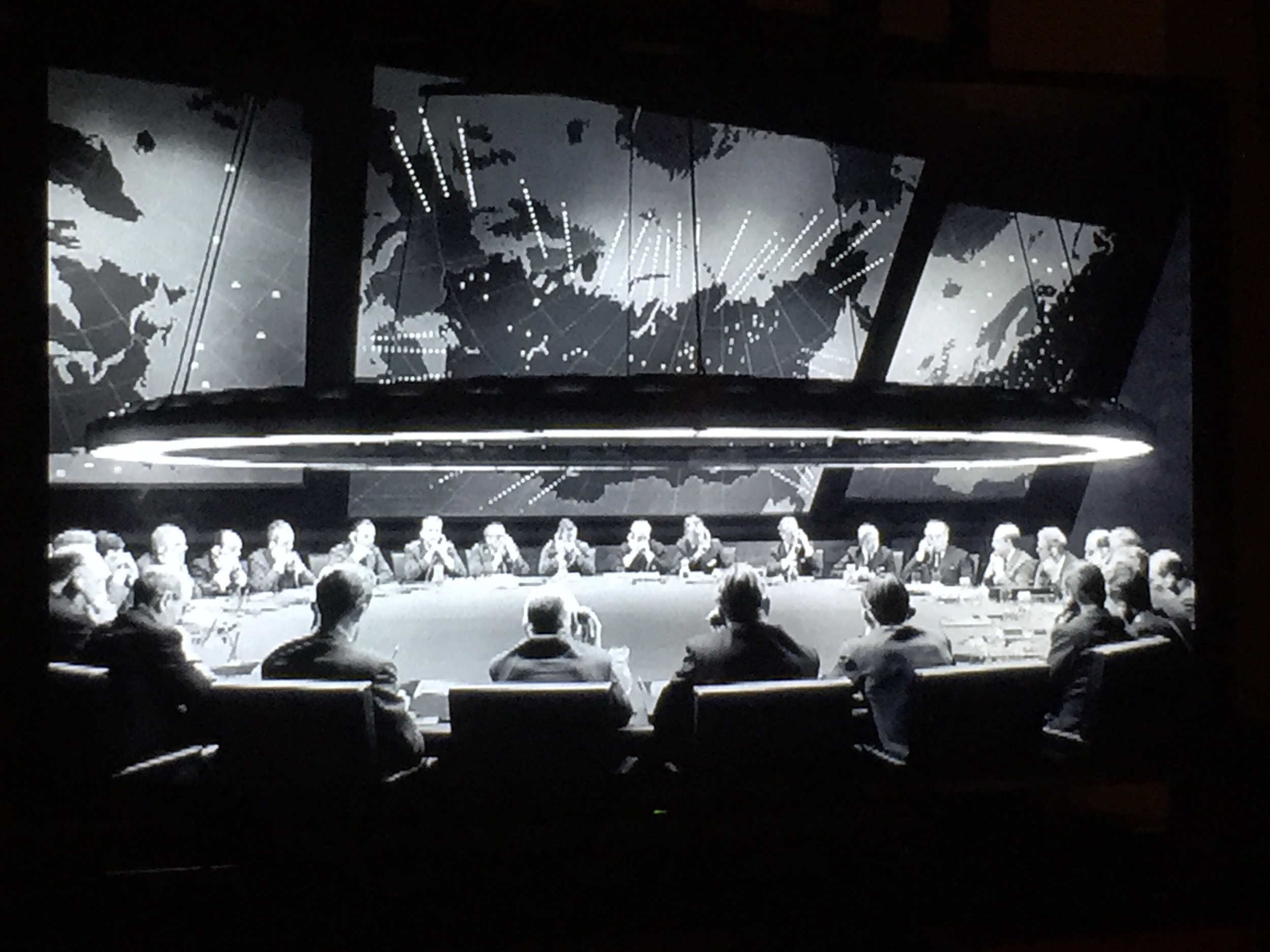 Watched the incredible Dr. Strangelove. Fascinating after reading the stories by Ken Adam.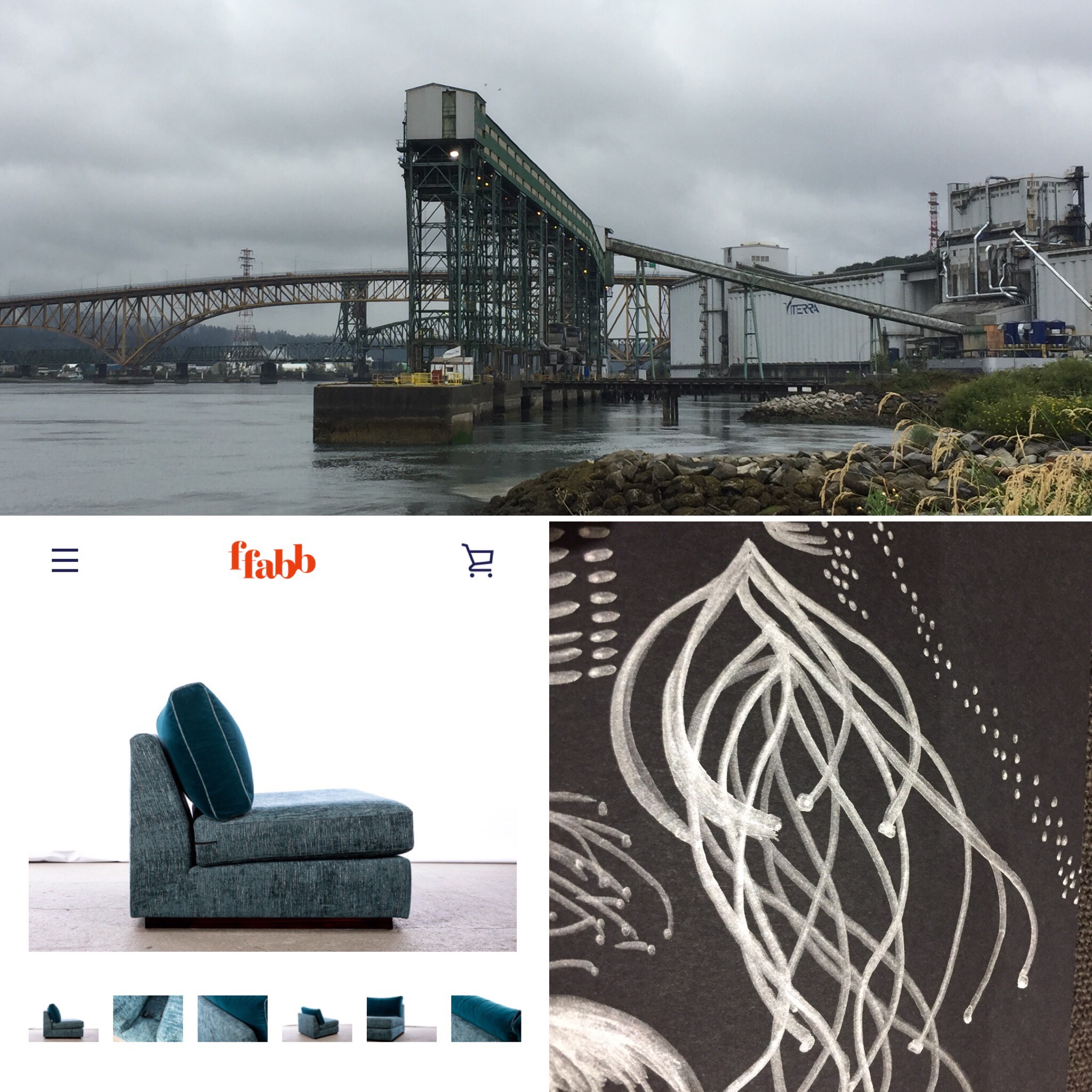 My fascination with industrial buildings continues, this is a photo in new Brighton Park during my morning bike ride. More sketching with silver sharpie. I'm working with Celina from FFABB doing some image editing for their new website as they launch their new furniture lines. I got to meet Christina for lunch and give her her mountain collage commission, we had a wonderful chat.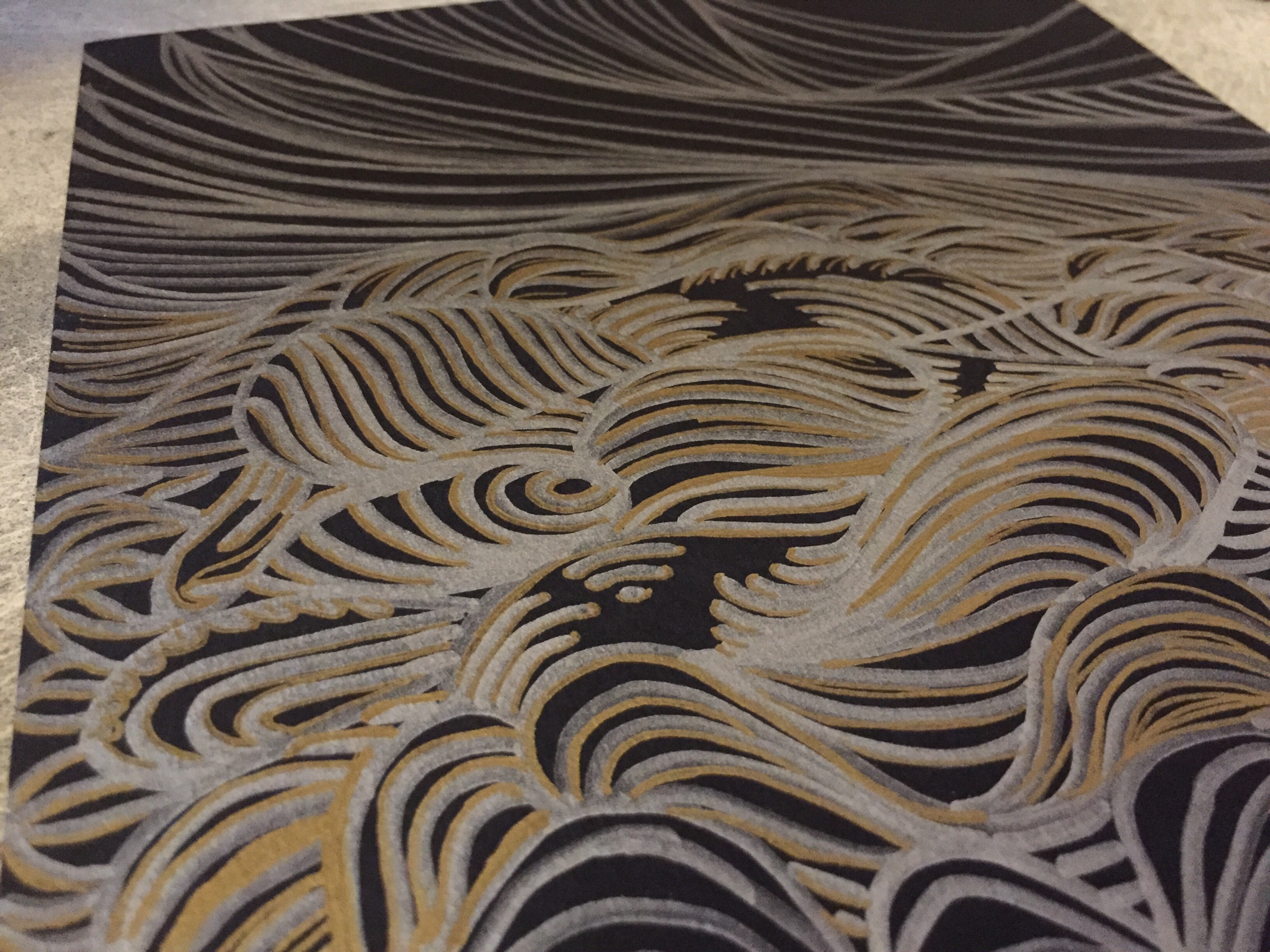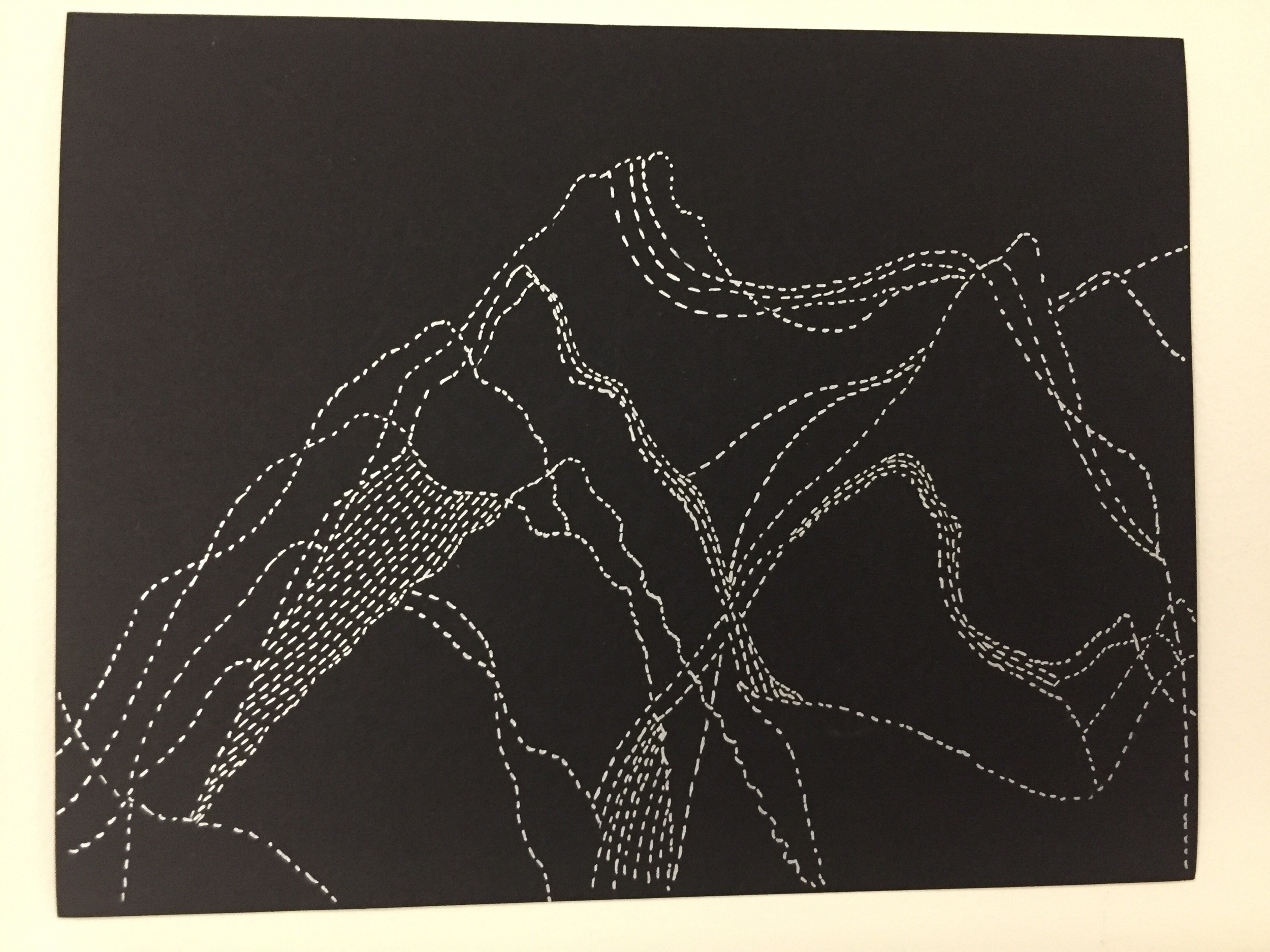 Metal sharpie is new best friend